Over the past month I have been acquiring the bits and pieces for my aquarium:
Substrate: I decided to go with ADA Aqua Soil, in the past I have always used EcoComplete. I chose the Aqua Soil because of the small size of the granolas, the color which is a deep brown (almost black), and because it is suppose to be full of nutrients. My understanding its kiln baked clay that is nutrient rich. After a few years I will have to start using fertilizer tabs (and probably some supplemental tabs in the interim) or swap some of the substrate out.
One small win… I ordered four 9L bags originally which was about 2L too much for my planned substrate depth. They ended up shipping me twelve 3L bags, so I can actually leave my extra in a sealed bag.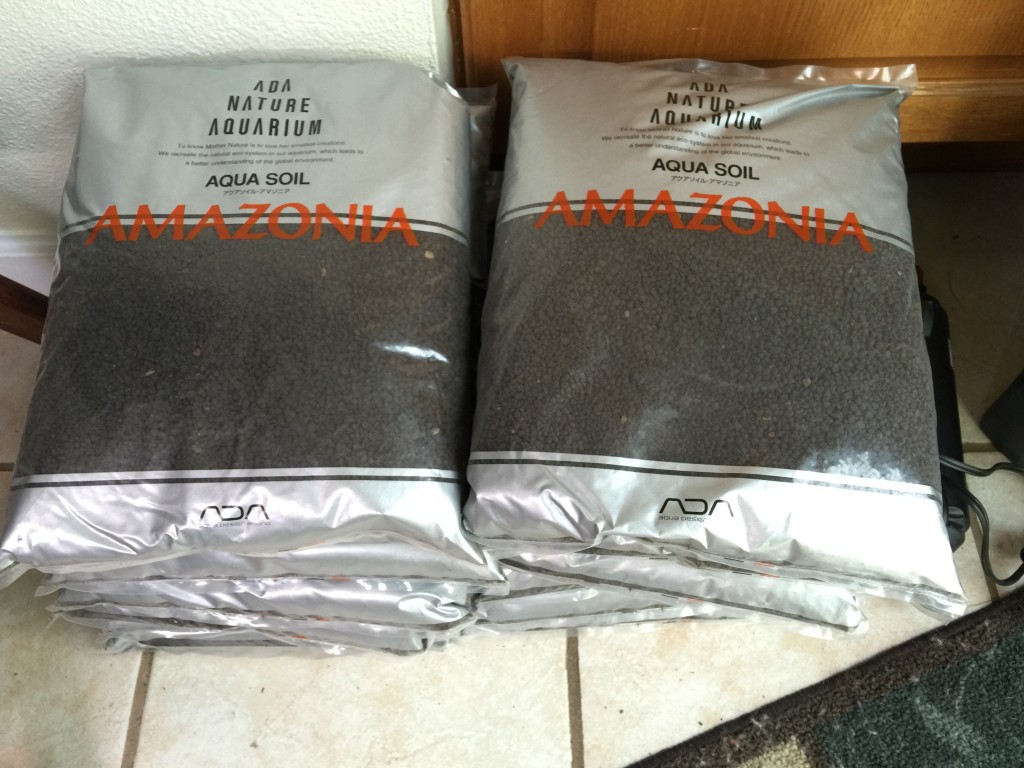 Driftwood: I purchased a box of random manzanita branches from Tom Barr. He is an influential person in the online community and from my perspective spearheaded the EI (Estimative Index) fertilizer dosing approach. He also takes a scientific approach to what works in the aquarium, exercising significant professional skepticism towards marketing claims. I linked his website above, I would strongly recommend checking it out if you are new to aquariums or trying to get a deeper understanding.
I received the driftwood on March 16 and immediately put it in a tub to soak. There has been a little bit of tannins leaching (nothing unexpected) and the wood is still buoyant after a week. I am hoping it'll become water logged after about three weeks if I am lucky.
Fertilizer:  I prefer to use dry fertilizers rather than pre-made liquid mixtures. You get a whole bunch more fertilizer for a fraction of the price. Last time I purchased fertilizer it lasted for nearly 3 years and cost me less than $20.
I bought the below items at http://www.aquariumfertilizer.com, you can get it a bit cheaper on some other sites but I have used these guys in the past and they were one of the first to start offering the fertilizer in small packages for aquarium hobbyists.
1lb – Mono Potassium Phosphate (macro)
2lb – Potassium Nitrate (macro)
1lb – Plantex CSM + Boron (micros)
1b – Barrs GH Booster (3 parts Potassium Sulfate, 3 parts Calcium Sulfate, 1 part Magnesium Sulfate by weight)
You will also notice 1lb of Potassium Permanganate in the image below, that is not a fertilizer, it is actually used to sterilize plants and will hopefully keep my aquarium snail free!